INDUSTRY LEADERS IN DIESEL ENGINEERING FOR ALMOST 40 YEARS!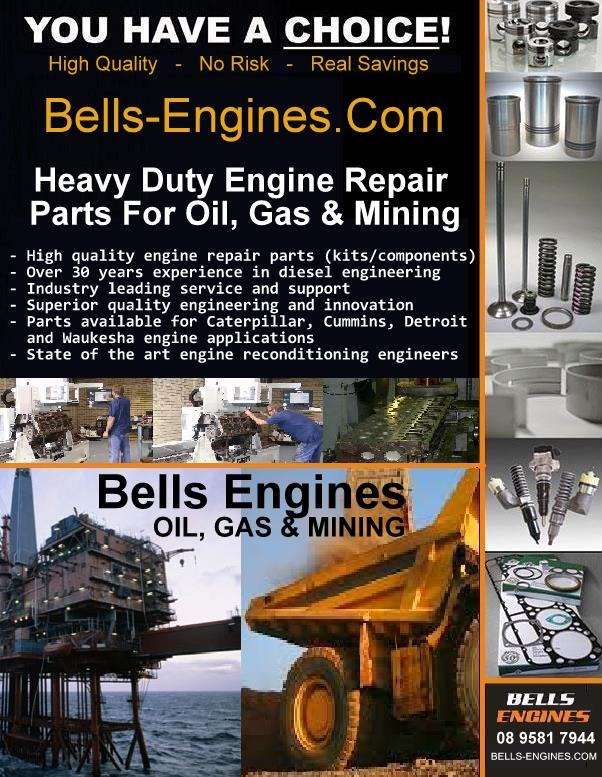 Welcome to Bells Engines Oil, Gas & Mining page.
With over 30 years experience in diesel engine engineering Bells are highly experienced when it comes to providing bespoke engine repair services to Clients in the Oil and Gas Industry and the Mining Industry. Bells Engines are overhaul and engine reconditioning experts as well as approved suppliers of genuine OEM and aftermarket parts, kits and components for Cummins®, Caterpillar®, Detroit Diesel® and Waukesha® parts.
Situated in the heart of Western Australia, Bells Engines are strategically situated to take delivery of minesite plant, oil and gas rig installation engines and gen-sets for repair at our state of the art engineering premises here in Western Australia. Bells can also rebuild engines at sites and installations where engines cannot be removed or transported.
Our Engineering workshops and departments are designed specifically for the task of:
Engine inspections and testing
Engine diagnostics
Engine dismantling
Engine milling and machining
Engine parts and component replacement
Engine acid washing and cleaning
Engine repair and assembly
Engine dyno testing and completion
Rottler F79A CNC Programmable Boring/Surfacing and Line Boring Machine
Rottler SG8OA CNC Programmable Cylinder Head Machine
AMC CM-2500 Engine Boring & Milling Machine
Rottler F105A Travelling Column Boring, Surfacing & Line Boring Machine (Future Order)
Engine Dynamometers
Electromax 4000 Crank Testers
Engine Balancing Machines
Engine Assembly Machines & Equipment
Engine Hoists
Etc
If you are in the Oil and Gas or Mining Industry and would like to find out more information, why not contact us or give Bells Engines a call today on 08 9581 7944.

We provide our reconditioning services and all engine parts and kits to Mandurah, Rockingham, Pinjarra, Busselton, Albany, Perth, Bunbury, Dunsborough, Margaret River, Denmark, Kalgoorlie, Country Western Australia (Agriculture & Minesites), off-shore Oil and Gas Installations, the Wheatbelt, Esperance, Geraldton, Carnarvon, Coral Bay, Exmouth, Karratha, Port Hedland, Broome, Tom Price etc

PLANT | EQUIPMENT | POWER
REMANUFACTURING ENGINEERS SINCE 1980